This Sunday from 9am December 4th Scouting Around will be broadcasting LIVE from the Vic Gathering event held annually by Scouts in Victoria.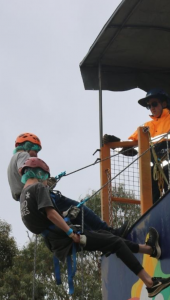 Vic Gathering is a Scouting weekend camp that is specifically run for Victorian Venturers, Linking Scouts and Girl Guides (aged between 14-18).
Run annually, this event aims to provide youth with a weekend of fun to relax and unwind at the end of a busy year.
VG takes place over the first weekend of December each year in a rotation of three sites and is run by a youth-led committee.
VG is a standing camp with the aim for Units to be self-sufficient in catering and camp gear, with canteen and Meal Ticket options available.
Nightly entertainment and a broad range of activities are available for youth supported by our dedicated Leaders and Rovers from across the state.
This year Vic Gathering is running from December 2-4 at Bay Park, Mt Martha.
This event is only open to Scouts so the only way you can experience the day is by listening to 96.5 Inner FM this Sunday from 9am.